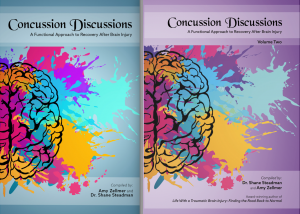 We want to give you a FREE copy of Concussion Discussions … 
These anthologies brings together 30 experts from around the country who share with you their advice and experience working with brain injury patients.
As you explore the chapters, you'll read about the numerous ways brain injury survivors can THRIVE in their recovery, often after traditional medicine left them struggling for answers. Additionally, you'll learn about different symptoms associated with brain injury (headaches, dysautonomia, eye tracking, brain fog, dizziness, thyroid disorders, and more), as well as the importance of understanding your legal rights.
If you or your loved one has suffered a brain injury, these books offer you a wealth of information, but, more importantly, also offers you HOPE!
Never lose hope — no matter how many years since your injury occurred, or how many doctors have told you they can't do anything for you. There truly are providers and professionals who understand exactly what you're going through, and how to help you achieve the quality of life you've been seeking. Twenty of those caring professionals share their knowledge and experience in this book.
ONLY 50 COPIES AVAILABLE!!!
Just pay shipping/handling of $9.95 for a single book (Vol 1 or 2),
or $18.95 for both volumes 1&2
retails for $18 each on Amazon
(available to US addresses only … please allow 3-4 weeks for delivery)
For faster delivery you can purchase for full price on AMAZON